Gourmet Cookies shipped to your door
99 problems but a cookie ain't 1
Large, Handcrafted, Premium Gourmet Cookies shipped nationwide to your doorstep. Mix & Match your favorite batch with over 16+ flavors and taste the difference with Problem Baker!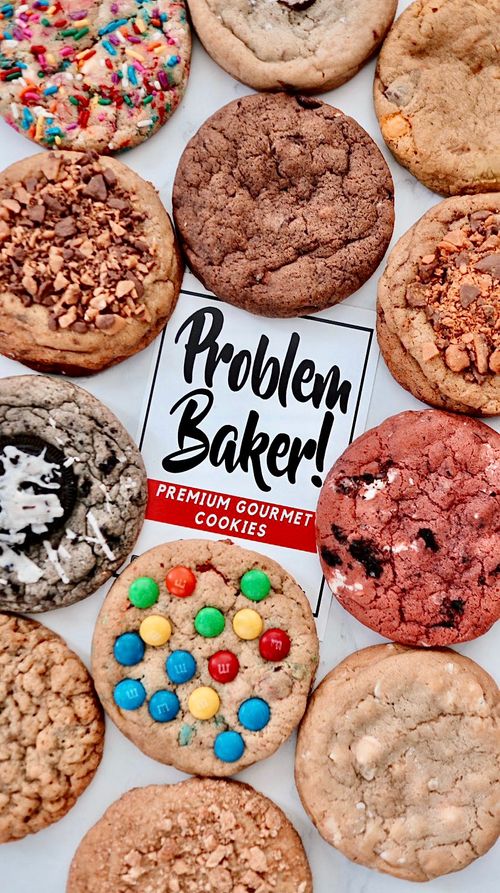 The Problem Baker Difference
We offer a variety of delicious baked goods, including gourmet cookies, breads, muffins and gift boxes for friends and loved ones. When you choose Problem Baker to satisfy your cookie cravings, you can expect:
High-Quality Cookies Made With Premium Ingredients

Large 4.25+ oz Cookies

A Wide Range of Delicious Flavors

Fast Shipping

Gourmet Cookies and Other Baked Goods Baked to Perfection

Quality Customer Service
At Problem Baker, we aren't trying to reinvent the wheel by creating a new type of cookie. Instead, we strive to perfect the classic cookie recipes that everyone knows and loves. We strive to make sure every customer has an enjoyable experience. Our goal is to bring you the tastiest cookies without compromising on quality, making every bite of our cookies one-of-a-kind. Whether it's for a special occasion or just because — experience the deliciousness and see why so many people are raving about Problem Baker — you won't be disappointed!

What our customers are saying

Cookie Connoisseur
"As a cookie connoisseur and dessert aficionado, I must say the cookies Problem Baker makes are always outstanding, moist, flavorful and most importantly soft. You definitely get more than your money's worth."
- Antonio L.
Very Large Banana Nut Muffins
"6 very large banana nut muffins arrived and were so fresh, filled with walnuts and bananas that I could smell before opening the box. I put 2 muffins in the freezer for a week later and they were just as fresh tasting as the day they arrived. I love these muffins and will definitely be ordering again."
- Kimberly S.
Better than Crumbl!
"My favorite bakery! Cookies are always the best! I am in Iowa and prefer Problem Baker cookies over Crumbl or any other local bakery. Always melt in your mouth deliciousness!"
- Phyllis W.