Find Out What Makes Us Different
"If people would only look to the cookie, all our problems would be solved." – Jerry Seinfeld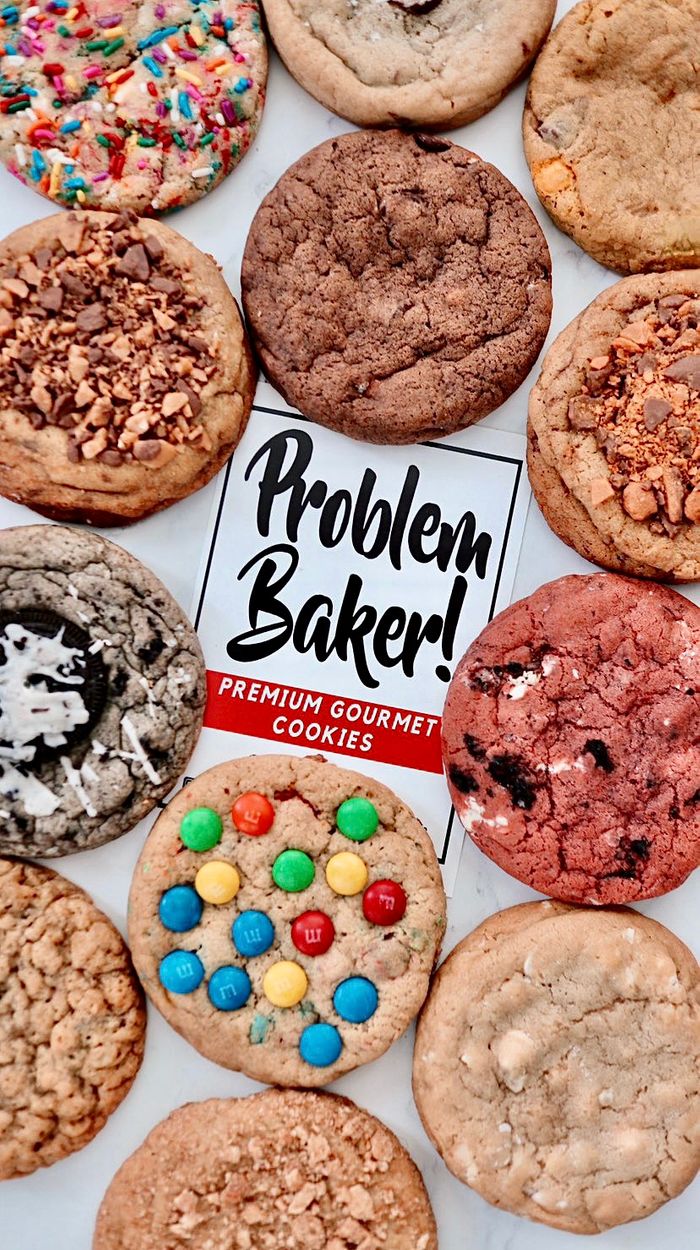 The Problem Baker Experience!
At Problem Baker, we believe that cookies should be the highlight of your day. With the highest quality ingredients, premium real butter, and an incredible variety of flavors, Problem Baker has something for everyone. Our cookies are sure to please even the most sophisticated of palates with our wide selection of delicious combinations. Order yours today and discover for yourself what makes our cookies so decadent that even the Cookie Monster himself would slow down to savor the experience.
It's What's Inside That Counts
High-Quality Ingredients - As is true of any exceptional baking recipe, great cookies start with the best ingredients. That's why we use only the highest quality ingredients in all of our recipes, from the freshest flour to the richest cocoa. We make sure that every cookie we send out is made with the same care and attention to detail as if we were baking it in our own kitchen.
Real Premium Butter - We don't skimp on the butter either. Our cookies are made with the most premium real butter available, which helps to lock in moisture and give our cookies a longer shelf life. This means your cookies will stay fresher for longer, so you can enjoy them anytime you like.
Variety of Flavors - At Problem Baker, we believe in offering something for everyone. That's why we offer a variety of flavors, from the classics like Chocolate Chip to more exciting originals like Cinnamon Toast Crunch and Red Velvet Oreo. We're always innovating and coming up with new recipes, so there's always something new to try. Some of our most unique flavors include:
Oreo Cookies 'N Cream

Toffee Chocolate Chip

White Chocolate Sprinkle

Date Walnut

Salted Caramel Chocolate Chip

Oatmeal Craisin Walnut

Reeses Peanut Butter

And More!
Nationwide Shipping
No matter where you live, you can enjoy Problem Baker's delicious cookies. We offer nationwide shipping so that everyone can experience the taste of Problem Baker's treats. Our cookies make the perfect treat for any occasion, from birthdays to holidays to just because. Our cookies are sure to bring a smile to anyone's face!
At Problem Baker, we're committed to providing the highest quality cookies made with the best ingredients. Our premium real butter locks in moisture for a longer shelf life and our huge variety of flavors ensures that everyone can find something they love. And with nationwide shipping, everyone can enjoy Problem Baker's delicious cookies no matter where they live. Don't wait — get yours today!
The Cookie Experience
How do you cookie?
Want a warm, gooey center? Pop your cookie in the oven and bake at 350° for 3-5 minutes. Make sure to PREHEAT the oven before putting it in. You can also throw it in the microwave for 10-15 seconds but we recommend using an oven.
Saving your cookies for later?
Save any uneaten cookies by putting them in an airtight container and freezing for up to 3 months.
And as always, Snap, Tag & Share your Cookie Experience with us on Instagram & Tiktok.
Thank you Fellow Cookie Connoisseur